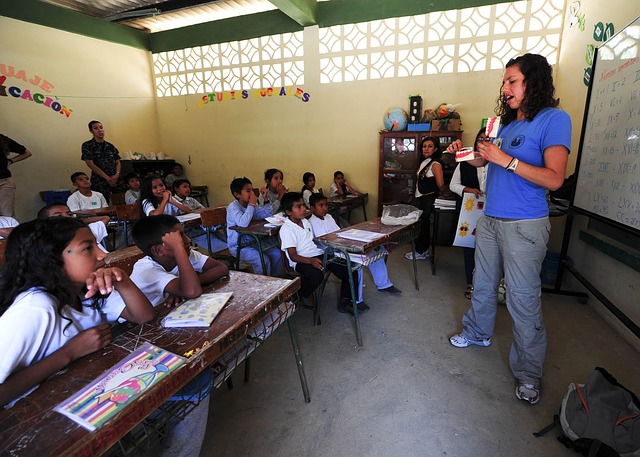 Have you started the school year already? Do you still have some time before students return to school? One thing that is probably on your mind is getting acquainted with students and establishing a positive classroom climate. The relational component of teaching is often underestimated and oftentimes teachers assume that getting along with students in a casual way is enough. Research shows that a successful learning environment is contingent upon positive relationships between the teacher and students as well as between students. Findings show that "strong teacher-student relationships were associated in both the short- and long-term with improvements on practically every measure schools care about: higher student academic engagement, attendance, grades, fewer disruptive behaviors and suspensions, and lower school dropout rates."

Teacher or friend? Or Both?

For new teachers, navigating the line between strong relationships with students and maintaining an authoritative role amongst them can be confusing and unclear. Students need to feel safe and supported by teachers while at the same time existing within structure and ground rules. Curriki veteran teacher Eileen Gwynn sums up how to have the right perspective on these relationships
"You have to remember that, in the end, it's the students, who are most important, not whether your way, or someone else's, wins, or is right. If you're on the student's side, and keep their needs at the forefront, you're usually successful. Always bring it back to what will benefit the students the most. "
Bottom line, teachers need to understand that it is okay to stand firm on your expectations and rules, while at the same time working positively with students.

Starting with the first day of school, adhering and following through on classroom expectations should be the primary vehicle for teachers to show that he/she is serious about the order and structure in the classroom community. Curriki veteran teacher Elke Ruedas says
"Teach your expectations and routines for at least a week or 2. Be fair but consistent."
Sticking to the classroom management script should go beyond the first day of school. It takes repeated routine and enforcement for students to know their boundaries and relationship expectations. Ruedas further explains one of the biggest lessons learned from years of teaching is, "Opening that door to misbehave because I relaxed too early. Build relationships, but set your bar HIGH!" This video from The Teaching Channel offers tips on how to set the stage for expectations on the first day of school.
Labeling and Conflict
It can be easy for teachers to use their own prior experiences and personal perceptions in mislabeling and treating students based on impressions. Teachers need to remove misconceptions from categorizing students. Repeat offenders often have difficulty receiving a "clean slate" from the teacher and can sometimes be under the microscope for the next behavior issue or aberration. Curriki veteran teacher Andrew Bell states it best in this quote:
Find the motivation for actions, good and bad and address accordingly. Don't assume a child is destined to never learn from their actions.

It is a reality that some students can consistently challenge the rules. In this video from The Teaching Channel, veteran teachers offer tactics for sticking to the ground rules for even the toughest situations. Need more strategies for chronic misbehaviors? This slideshow offers advice to employing effective classroom management with dignity.

R-E-S-P-E-C-T and Care

Showing students respect is one of the easiest ways teachers can show students that they are valued by the teacher. However, teachers shouldn't confuse respect giving students free reign on every aspect of the classroom. Use classroom rules and the code of conduct as the framework for acceptable behavior and actions. Rather than allowing students to pick and choose rules they'd like to follow, allow them to pick and choose topics for learning, methods of learning, and even products. Have them work collaboratively on creating class rules and expectations. This can even be for specific events such as class discussions or class critiques. Student voice can help empower students in making their learning community in your classroom one that they can benefit from the most. Here are additional tips for building a positive classroom climate with students.

In the end, students need to feel loved by their teachers. Structure and expectations provide students safe parameters in learning. When students don't feel threatened, they thrive.