The holidays are over.
Winter break is over.
It may feel like torture trying to get back into the swing of things this time of year. Not only do students and teachers have to jump back into the academic routine again, but this time of year tends to feel drawn out with, for many, the next major holiday being months away for spring break. Students have gotten over their excitement for seeing friends again at the return of school and may now feel a bit unfocused. As a teacher, you may feel fresh out of ideas to get students engaged again for the long haul. What is one of the best ways to help make each day not feel like a small incremental hurdle towards the last day of school?
Interdisciplinary instruction.
That's right. What a better way to wake up your instruction and wake up students other than collaborating with your colleagues to emphasize learning multifaceted content across curriculum! In this video from The Teaching Channel , a social studies and science teacher duo in New York show how their collaboration and co-teaching provides a power punch to learning.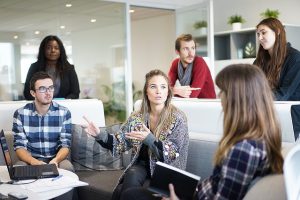 We've curated some cross-curricular classroom ideas that can help you get started in providing thematic instruction that reaches multiple objectives "with one stone"!
Constellation Unit-Fifth Grade
This hands-on interdisciplinary unit for fifth grade features portfolio grading, options for student choice, science, reading, social studies, math, art and other extension activities. It can also be modified easily for younger students.
Ocean Planet: Interdisciplinary Marine Science Activities
In this set of six interdisciplinary lesson plans from the Smithsonian, topics include: ocean bottom features and seafloor mapping; marine habitats and biodiversity; consumer goods from the ocean; oil spills impacts and solutions; causes of marine strandings; ocean-inspired vocabulary. Units contain: background; instructions for the teacher; maps, data and forms for students; discussion questions and student activities that stress science, math, language arts and social studies.
Aeronautics Guide – Flight: Interdisciplinary Learning Activities
These activities from NASA Education help students learn the basics of flight, not only in science class, but in math, fine arts, technology, social studies, language arts, and health and physical education.
Likewise, in Aeronautics Guide – Air: Interdisciplinary Learning Activities, students learn interdisciplinary lessons about air.
Combine the worlds of science and music in this short take home project, requiring students to ask science related questions about song lyrics.
As Big as the Ocean: Creating Murals
This article from Ohio State University discusses how to use murals as an interdisciplinary, cooperative activity to blend science, art, and math concepts.
Earthquakes! Amplitude and Magnitude Connection
This interdisciplinary learning activity illustrates the differences between the amplitude and magnitude of earthquakes in a mathematical context. Students will express earthquake magnitude as a logarithmic function of amplitude and express earthquake amplitude as an exponential function of magnitude. Worksheets are also included in the document.
Incorporating Module 4 Sixth Grade ELA into Sixth Grade Science
This unit focuses on the broad area of energy consumption and production, and more specifically on issues and controversies related to the use of hydraulic fracturing, better known as "fracking," to access natural gas deep underground.  Students develop a problem to investigate, conduct research, and write arguments.
Students plan a 7-8 day vacation within a certain budget and investigate the history, geography, and economics of their travel destination.
This is an activity featuring a time zone map useful when teaching an interdisciplinary social studies and math unit focusing on geography and the time zones.
Acting Out: Literature, Drama, and Connecting With History
This article  from ReadWriteThink describes a successful teacher-professor collaboration to plan interdisciplinary curriculum and team-teach it in a first-grade classroom. The goal was to use literature and drama to help children learn about and find meaning in African American experiences and perspectives and instruction includes writing, staging, and performing three plays about African American history
Selling Ideas: Interdisciplinary Unit
This interdisciplinary unit for 11th grade English Language Arts and U.S. History have students researching the impact of advertising throughout American history. They further develop arguments on a position about advertising.
Bamboo People—an interdisciplinary unit for high school
In this high school interdisciplinary unit, students read Bamboo People, by Mitali Perkins and study the topics of child soldiers, landmines, and modern-day Burma/Myanmar
How have you collaborated with a colleague across your content areas? Now is the time to share your resources and make teaching and learning fun during these cold winter days!